Deluxe Drum Cradle
Manufacturer: Wesco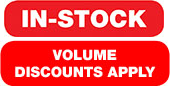 FOB: East Coast Warehouse
Normally ships within 5 days
Standard Color Orange
Features:
Tips, drains, stores, rotates and moves 30 or 55 gallon steel drums.
Dual telescoping wood handles allow easy two handed control.
Large 4" x 1.25" polyolefin wheels for easy movement over uneven floors.
Shipped knocked down and boxed via UPS.
Backed by 2 year warranty against weld failure.
Overall Dimensions: 19"W x 43" - 67.375"D x 25.5"H 20" drain height.
If you need a large quantity of this product, call us at 1-800-338-1382 for additional bulk discounts!