Drum Grabs
Manufacturer: Wesco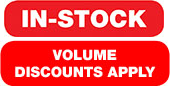 FOB: East Coast Warehouse

Normally ships within 5-7 days
Standard Color Orange and Yellow

Features:
All welded steel construction for durability.
Affordable way to move 55 gallon steel drums.
Economically priced lower capacity grabs.
VG models: jaws not adjustable.
AVG models: adjustable jaws.
ADJ models feature all welded steel construction for durability.
All ADJ and DRL units handle 55 or 30 gallon steel drums.
DRL models have cast arms that are replaceable.
Cost effective way to move 55 and/or 30 gallon drums.

Please Note: OSHA requires contacting the manufacturer of your fork truck for written approval for the use of any fork truck attachments.