Hoist Mounted Drum Lifting Equipment
Manufacturer: Wesco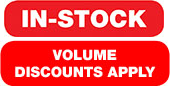 Normally ships within 5 days
FOB East Coast Warehouse.

Hoist Mount Drum Lifter Features:
Heavy duty annealed ductile iron.
Curved foot on stabilizing arm prevents damage to drum.
Overall Dimensions: 24,5"W x 2.25"D

x 17.5"H
Drum Slings Feature:
Horizontally lift all "closed or open-head" drums.
D-shaped lifting ring fits most overhead systems.
Inverted ring fits web-lifting slings.
Overall Dimensions: 2.25"W x 2"D

x 18.75"H
If you need a large quantity of this product, call us at 1-800-338-1382 for additional bulk discounts!