Salvage Drum Lifters
Manufacturer: Wesco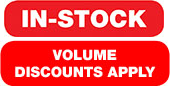 FOB: East Coast Warehouse

Normally ships within 5 days
Made In The USA

Features:
Convenient for fast and gentle loading of steel drums into overpacks.
Ships boxed via UPS.
For use with closed head steel drums.
Overall Dimensions: W: 9.875" H: 7.375" D: 19.63"
If you need a large quantity of this product, call us at 1-800-338-1382 for additional bulk discounts!